MATERIALS

Six Guy Anchors - 8" Helix Anchor 11,000 Lbs. Pull Out Strength

Guy Wires - 3/8" GAC 14,400 Lbs. Breaking Strength

Class II CCA Treated Poles - Per ANSI 05.1-2002

ACQ Top Choice Treated Lumber

3/4" Galvanized Bolts - 22,500 Lbs. Breaking Strength

Stainless Steel Belay Bars
Stainless Steel Screws

3/4" PolyDacron Rope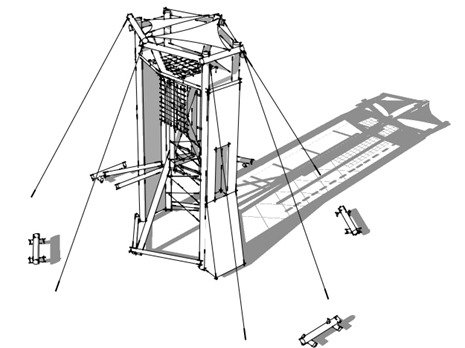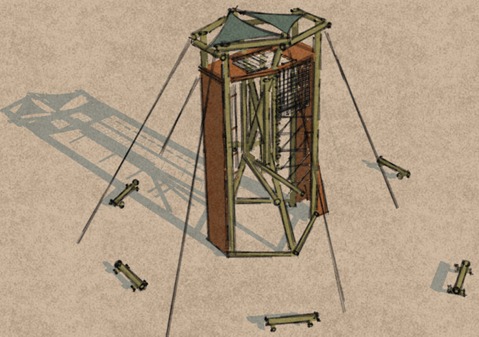 TOWER SPECIFICATIONS

Six-sided construction with up to 20 different high elements gives participants a multitude of choices and allows for multiple programming opportunities.


Up to ten built-in low elements/activities conserve space and resources.


Can accommodate 12 climbers at one time and up to 36 people can actively participate at once!


Stainless steel belay bars mean no rust and less wear and tear on ropes.


The top deck has a 10' X 10' cargo net for large group processing and better visibility.


Sun canopy on top reduces exposure to sun and elements.


High elements can be changed or moved allowing you to add new elements and create new challenges without buying a new tower!


Two climbing walls available in either Polyurathane or wood with overhangs for increased challenge.